TOHU veBOHU
KLEZMER, ARABO-ANDALUSIAN & RENAISSANCE MUSIC...
---
THE 'TOHU veBOHU' PROJECT
'Now the earth was without form and void'… And out of this initial confusion - 'Tohu veBohu' - came Light. This is how the world came into being, a world into which Man received the mitzve (command) to bring order. But did he?
What we see today - wars, genocide, perversion of justice, ethnic cleansing, violations of human rights and dignity - is ample evidence that Man did not succeed and that mankind has yet to fulfil its mission on earth.
The Tohu-veBohu project brings together musicians of various cultural and religious origins: Christians, Jews and Arabs, who are eager to prove that peaceful coexistence is possible and that, short of changing the world, getting to know one another can help us to change ourselves; such encounters can enrich our lives as creative artists…and our lives beyond that, if we're willing.
Each band brings in its own musical material (klezmer, Arabo-Andalusian themes, ricercares, passacaglias etc.) and offers it to the others, as a support for their creativeness and as a stimulus to improvise in their own styles.
Our musical 'Tohu-veBohu' should produce a luminous and joyful atmosphere, able to engender a feeling of reverence and being at one.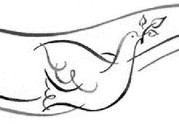 ---
TOHU veBOHU and its MUSICIANS
Hotegezugt - klezmer music:

Michel Borzykowski (saxophones)
Bianca Favez (violin)
Christine Niggeler or Pier-Yves "Yoyvl" Têtu (accordion)
Adrien gaubert (double bass)

Nomades - Arabo-Andalusian music:

Adel Degaichia (percussion, violin)
Amar Toumi (percussion, ud, vocals)
Claude Jordan (flutes)
Renaissance - Renaissance music:

Cecilia Knudtsen (viole de gambe)
Laura Mendy (organ)
Patricia Esteban (flute, percussion)
Julie Mazille (flute, vocals)

Contact:
Michel Borzykowski
12 chemin Franconis
CH-1290 Versoix (Suisse)
Phone: +41 22 755 41 23
Fax: +41 22 776 14 94
e-mail:



WHERE CAN I LISTEN TO TOHU veBOHU ?

last update: 2007-12-21
---